In 9 days you will visit the historical city of Athens with the stunning Acropolis, the whitewashed maze full of shops in Mykonos town and end your trip on the picturesque island of Santorini. Most famous pictures of Greece are shot on this island and there is no doubt that you will shoot many pictures yourself as well. From Santorini you fly back home, this way you save a nine hour boat trip back to Athens.
Interested? Read the day-to-day description of this trip below. Would you like to stay a day longer or shorter on an island or change an island for another? No problem, please indicate this on the request form and we will directly start working on an island hopping Mykonos trip.
Request quotation
Create your tailor made trip
Show all prices
Day-to-day description
Day 1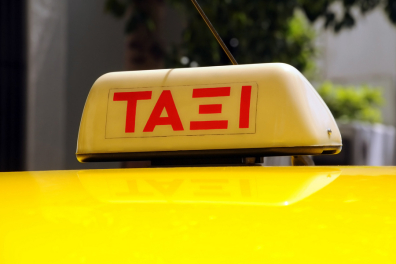 Day 1: Arrival in Athens
Upon arrival you will be met at Athens airport and transferred to your hotel. Enjoy an evening stroll through the atmospheric Plaka and Psiri and dine on one of the many terraces. Would you rather skip Athens during your trip? Ask us for the possibilities.
Day 2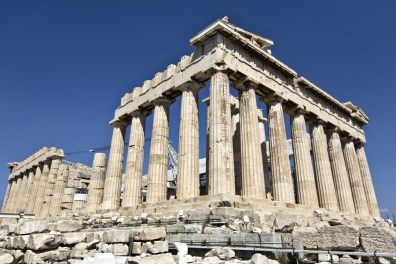 Day 2: at leisure in Athens
The second day is completely at leisure. We would advise you to get up early and visit the Acropolis. This is the highlight of Athens for many people. Can't you get enough of the Greek history ? Please visit the theater of Dionysos and the new Acropolis Museum. Learn more about Athens
Day 3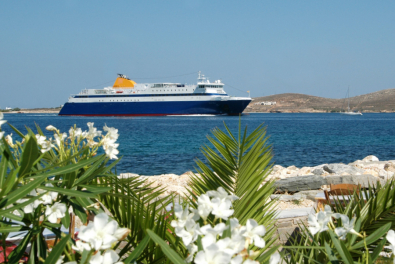 Day 3: Athens - Mykonos
You will be picked up at your hotel and brought to the port of Athens. At this place the ferry to Mykonos departs. The journey takes about 4.5 hours. Once arrived at the port of Mykonos someone will be waiting for you to take you to your accommodation.
Day 4 & 5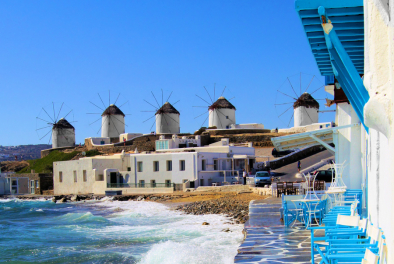 Day 4 & 5: at leisure on Mykonos
During these days there are several things to see. Make sure you go to Mykonos Town. It is crowded, but it's definitely worth to walk through the maze of narrow streets and visit 'Little Venice'. Further: visit the island of Delos with its archaeological excavations, the monastery at Ano Mera or go to Paradise Beach to enjoy the sun. Learn more about Mykonos
Day 6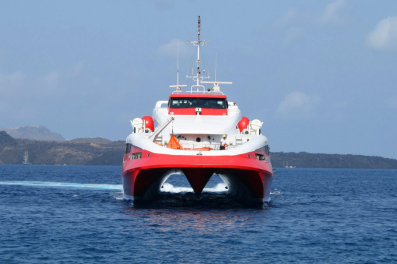 Day 6: Mykonos - Paros
You will be picked up at your accommodation and brought to the port of Mykonos to catch your ferry with destination Santorini. The journey takes about 2,5 hours. Once arrived at the port of Santorini someone will be waiting for you to take you to your accommodation.
Jour 7 & 8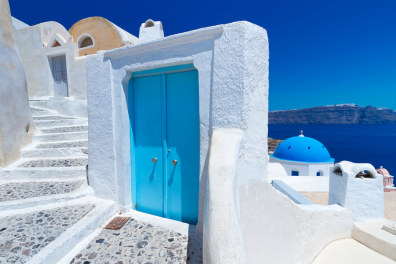 Jour 7 & 8: temps libre à Santorin
Santorin est connue pour ses belles vues. Fira et Oia sont les plus populaires, ce dernier surtout pour son coucher du soleil. Les gens applaudissent en fait lorsque le soleil disparaît dans la mer. En outre: le volcan avec des sources thermales, le promenade à dos d'âne ou deguster de vin à un petit musée du vin. En savoir plus sur Santorin Santorin
Day 9
Day 9: Departure back home
You will be picked up from your accommodation and taken to the airport of Santorini where the airplane will take you home. Can't you get enough of island hopping Mykonos then visit another island of the Cyclades and tell us your desires at the request form. You can also expand holidays at Crete. An island known by many for busy places like Malia & Hersonissos, but there is much, much more ...
Additional information
Car rental
Most islands have a good network of public transport to explore the islands. However if you want to explore the islands thoroughly and go where the buses do not go / stop, we advise you to rent a car. Ask us about the possibilities.
Flights
As flight rates differ per day, we offer the trips excluding flights. There are flights from €260, - per person, for those flights availability is limited. In general, the sooner you book, the cheaper the flight. We can help you to search for a suitable flight.
Accommodation
You can choose different type and class of accommodations with us. The hotels include breakfast and the studio's or apartments are mostly without breakfast. The hotels we divided into three different classes:
Often small scale hotels with simple but decent rooms with private bathroom and toilet.
Comfortable hotels with more facilities, often with pool. The rooms are also better.
Luxury hotels with lots of facilities or a particularly stylish accommodation .
The studio's or apartments without breakfast we divide into two classes:
Often small complexes with simple studio's or apartments with a simple own kitchenette.
Often small complexes with comfortable studio's or apartments with a comfortable private kitchenette.
Be sure where you stay
Because we are very flexible, one can depart any day and one can make all kind of changes to our trips, it's impossible to check availability of accommodations in advance. We therefore assume the accommodations mentioned in the quotation are available. If something turns out to be fully booked at the time of booking, we will come up with a similar alternative, but you can still cancel the trip free of charge. So, before the final booking you will know where you will be staying.