Island hopping Greece operates in accordance with the European Package Travel Directive. All payments for services that fall under this EU law are protected by insurance protection which guarantees you a refund in the unlikely event of insolvency. This means that it doesn't matter whether you book your trip with a French, Dutch, German or Greek agency, we all have to comply with European package travel law.
Island hopping Greece is an organization specialised in island-hopping trips across Greece. Island hopping is the best way to experience the typical Greek islands. The nice thing about island hopping is that you navigate from one small world to another and stumble across new surprises on every island. On the deck of the ferry you say goodbye to an island and you can already start fantasizing about your next destination. We offer you the possibility to discover all these islands in complete freedom, but with the ease that your overnight stays, transfers, car rental and ferry tickets are organized. After all, it's still a holiday...
We have personally visited all the islands and accommodations we offer and can therefore advise you from personal experience. We mainly offer small scale accommodation, so that one can experience the real Greece. All the trips we offer can be taylor made. One day more, one less day, add another island, everything is possible. Do you have special needs that you cannot find on the website? Please contact us.
Island hopping Greece is a cooperation between a Dutch travel agency specializing in island hopping (Eilandhoppen op Maat) and a local DMC from Greece called Supreme Travel. After working together for over 8 years, we have decided to combine the knowledge of both companies and are therefore able to offer you an excellent service at competitive rates.
Island hopping Greece is a trading name of Supreme Travel Center. Our registered office is at Vouliagmenis Av. 60, Glyfada, 166 75 Athens, Greece, under the registered name NIKOLAOS PONTIKOS & SIA EE, is registered in Greece with VAT number 800397930 and approved by the National Office of Greek tourism (license number 0261E60000526900).
We introduce ourselves to you:
Ria Armaou
With many years of experience in the tourism market, love and dedication to my work! I like to communicate with people and put my little stone in the realization of their travel experiences. From my first steps as an employee of a major French airline, to the organization of incentive trips, congresses and leisure stays until today, every day, I set myself the same objective, to help each traveler to live the ultimate experience exactly as he/she dreamed off! My favorite destination is a small but at the same time historic island in the Saronic Gulf, Spetses. An imposing and cosmopolitan place, of unique beauty, with clear historical references, monuments, museums and the most beautiful pedestrian street, to enjoy wonderful walks watching the sunset. A car-free island, just two hours from Athens, can take your breath away and generously give you the best summers of your life.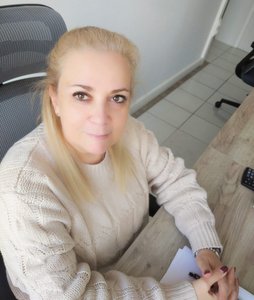 Evi Nika
Is there any better chance than turning your hobby into a profession? With my studies and my many years of experience in the world of tourism, I do what I love every day. I love to travel, I immerse myself for hours in the search for the ideal hotel according to the profile of each traveler, I look for all the details of each destination such as museums, restaurants, beaches, climate, entertainment etc I saw almost all of Greece and saw most of the Greek islands. From cosmopolitan Mykonos to the acritical Oinousses of Chios, from majestic and aristocratic Corfu to the most remote mountain village of Crete and from green Skiathos to beautiful and wild Folegandros. Each experience is incredibly unique! My favorite destination? This is even a more difficult question than knowing what is my favorite Greek food…! I will choose an emerald island in the Ionian Sea. Paxos... The island that Poseidon took from southern Corfu with his trident, to shelter his love with Amphitrite. Clear blue waters, lacy beaches, caves, villages that smell of fresh bread and cosmopolitan air, it all fits into this little paradise!
Nikos Pontikos
Fan of travel, mythology, history and geography! With a great love for Greece, its history and its cultural richness, I have been working in the field of tourism and tourist services for more than 20 years. I have worked in all areas related to tourism such as incentive travel, professional, leisure and conference organization. With my "suitcases" full of endless travels and experiences around the world, I have learned to create, organize and deliver dream travel experiences. My favorite destination is the famous island of the winds, in the heart of the Cyclades, Mykonos. A place that doesn't need many recommendations since its reputation has reached the ends of the earth. Ideal for cosmopolitans but also with well-hidden beauties and secrets for those who want to taste the most "calm", mysterious and charming side.