In 22 days you will visit the historical city of Athens, the sweet island of Paros, the most beautiful beaches of the Cyclades on Naxos and the photogenic island of Santorini. Most famous photographs of Greece are shot on Santorini and there is no doubt that you will make many pictures yourself. You'll end your trip on the largest island of Greece, Crete. On Crete you will stay in a quiet, pleasant village far away from mass tourism.
Interested? Read the day-to-day description of this trip below. Would you like to stay a day longer or shorter on an island or change an island for another? No problem, please indicate this on the request form and we will directly start working on an island hopping around Greece program.
Request quotation
Create your tailor made trip
Show all prices
Day-to-day description
Day 1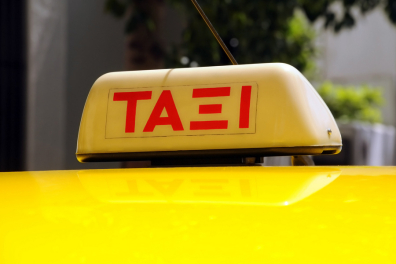 Day 1: Arrival in Athens
Upon arrival you will be met at Athens airport and transferred to your hotel. Enjoy an evening stroll through the atmospheric Plaka and Psiri and dine on one of the many terraces. Would you rather skip Athens during your trip? Ask us for the possibilities.
Day 2
Day 2: at leisure in Athens
The second day is completely at leisure. We would advise you to get up early and visit the Acropolis. This is the highlight of Athens for many people. Can't you get enough of the Greek history ? Please visit the theater of Dionysos and the new Acropolis Museum. Learn more about Athens
Day 3
Day 3: Athens - Paros
You will be picked up at your hotel and brought to the port of Athens. At this place the ferry to Paros departs. The journey takes about 4 hours. Once arrived at the port of Paros someone will be waiting for you to take you to your accommodation.
Day 4, 5 & 6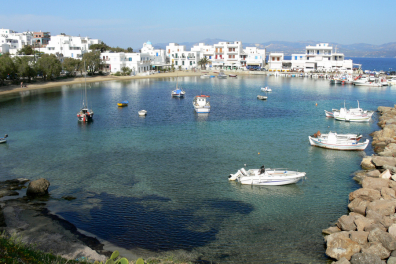 Day 4, 5 & 6: at leisure on Paros
Visit Naousa village, one of the most picturesque fishing villages of the Cyclades. In the narrow streets of Parikia you can shop or take a seat on one of the terraces. Furthermore: a visit to the caves with stalactites and stalagmites on the island of Antiparos, Kolymbrithes beach or a visit to the mountain village of Lefkes. Learn more about Paros
Day 7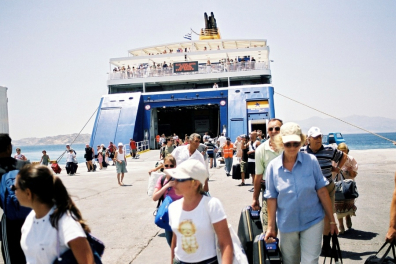 Day 7: Paros - Naxos
You will be picked up at your accommodation and brought to the port of Paros to catch your ferry with destination Naxos. The journey takes about 45 minutes. Once arrived at the port of Naxos someone will be waiting for you to take you to your accommodation.
Day 8, 9 & 10
Day 8, 9 & 10: at leisure on Naxos
Naxos is known for its endless sandy beaches. Therefore we advise you to relax a day, so the impressions of the last islands can sink in. Furthermore: the castle in Naxos Town, Naxos Town itself and the inland of the island with beautiful villages like Apiranthos, Halki & Koronos. Learn more about Naxos
Day 11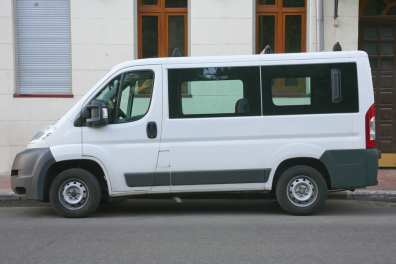 Day 11: Naxos - Santorini
You will be picked up at your accommodation and brought to the port of Naxos to catch your ferry with destination Santorini. The journey takes about 2 hours. Once arrived at the port of Santorini someone will be waiting for you to take you to your accommodation.
Day 12 & 13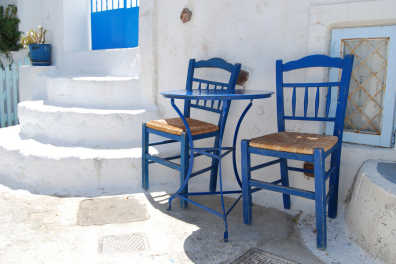 Day 12 & 13: at leisure on Santorini
Santorini is known for its beautiful views. A photographer can not get any luckier. Fira and Oia are the most popular, the latter especially at sunset. People actually applaud when the sun disappears into the sea. Furthermore: the volcano with hot springs, a donkeyride or a small wine museum. Learn more about Santorini.
Day 14
Day 14 :Santorini - Crete
You will be picked up from your accommodation and driven to the port of Santorini. The ferry to Crete will take about 2,5 hours. At Crete someone from the carrental company will be waiting for you to hand over the car. Because the arrival is often a bit late, we are planning a hotel nearby the port. This way you don't have to drive 1,5 hour to the south side of the island in the dark. You will drive to the hotel in about 10 minutes.
Day 15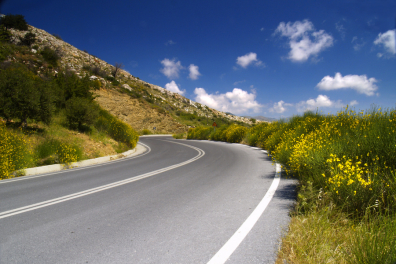 Day 15: Heraklion (Crete) - Mirtos (Crete)
After breakfast and possibly a visit to Knossos (since you are in the area anyway), you will drive to Mirtos in about an hour and a half.
Day 16 till 21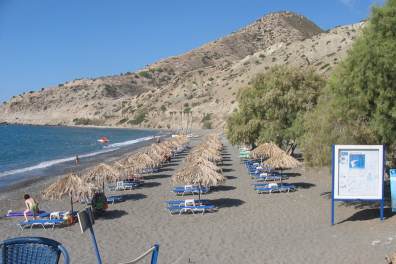 Day 16 till 21: at leisure in Mirtos on Crete
Mirtos is a small friendly village on the south coast of Crete. You will find a piece of the real Greece here because it is not flooded by tourists. From Mirtos you can discover the East side of the island. Easy to reach by car is the palmbeach of Vai, the Cave of Zeus on the Lassithi Plateau, Knossos, Spinalonga island, the town of Agios Nikolaos, the uninhabited Chrissi Island and at a slightly greater distance the caves of Matala. The hinterland offers many possibilities to go hiking, stunning gorges and many villages where time seems to have stood still and old ladies in black dominate the streets. Learn more about Mirtos.
Day 22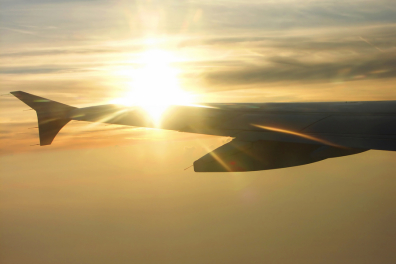 Day 22: Departure back home
You drive from your accommodation to the airport which will take you approximately 1.5 hours. You leave the car and get on the plane to head home. If you can't get enough of island hopping around Greece, please ask us for the possiblites to extend your trip.
Additional information
Car rental
Most islands have a good network of public transport to explore the islands. However if you want to explore the islands thoroughly and go where the buses do not go / stop, we advise you to rent a car. Ask us about the possibilities. At Crete a car is included, since it's an absolute necessity to discover the island.
Flights
As flight rates differ per day, we offer the trips excluding flights. There are flights from €260, - per person, for those flights availability is limited. In general, the sooner you book, the cheaper the flight. We can help you to search for a suitable flight.
Accommodation
You can choose different type and class of accommodations with us. The hotels include breakfast and the studio's or apartments are mostly without breakfast. The hotels we divided into three different classes:
Often small scale hotels with simple but decent rooms with private bathroom and toilet.
Comfortable hotels with more facilities, often with pool. The rooms are also better.
Luxury hotels with lots of facilities or a particularly stylish accommodation .
The studio's or apartments without breakfast we divide into two classes:
Often small complexes with simple studio's or apartments with a simple own kitchenette.
Often small complexes with comfortable studio's or apartments with a comfortable private kitchenette.
Be sure where you stay
Because we are very flexible, one can depart any day and one can make all kind of changes to our trips, it's impossible to check availability of accommodations in advance. We therefore assume the accommodations mentioned in the quotation are available. If something turns out to be fully booked at the time of booking, we will come up with a similar alternative, but you can still cancel the trip free of charge. So, before the final booking you will know where you will be staying.